Registered
Elite Donor
Donor
Seasoned Supporter
Jul 16, 2014
17,522
49,743
353
Nine games in, and the one-quarter mark is behind us. The trade deadline came and went with no late acquisitions for NYCFC. This is the team we have at least until July. I think the last major acquisition for the team in July was Taty in 2018, and none of us understood the import at the time that or thought the team desperately needed another forward. Villa was still around. I think the only previous time the team went into the summer window feeling incomplete and needing offensive punch was in 2015.
NYCFC has 12 goals in 9 games. That's 4th worst our of 8 seasons. Through 9 games, NYCFC scored just 6 goals in 2015, 11 in 2019, and 8 in 2020. In 2019 Coach Torrent complained publicly because Héber was not acquired and available until - Game 5. 2020 was just a hellshow all around. And just for fun, last year the team scored 19 goals in the first 9 games despite being shutout 4 times.
One problem is we're not shooting much since Taty left. Not a complete surprise since he shot more than anyone in MLS by a lot, but shots are way, way down for NYCFC after a lot of consistency.
Shots per game
2018 15.68
2019 15.18
2020 15.48
2021 15.18
2022 before Taty left 15.67
2022 after Taty left 11.77
2023 12.22
Yeah, the quality of chances matter, but Michael Scott understood the wisdom of Wayne Gretzky. Taty took 4.70 shots per game in 2022, meaning the rest of the club added back about 20% of his shots after he left. This year is just a little better. NYCFC needs to shoot more, and they probably need a shameless forward to do that. Or do they. These are very small samples, but in the first 4 games this year NYCFC took 10.5 shots per game, with 1.35 xG and 1.00 Goals/gm. In the last 4 games* those numbers are 15.75 shots, 1.25 xG, and 1.75 Goals per game. Slightly odd how the xG went down with that significant rise in shots and goals, but again -- small sample sizes and Wayne Gretzky.
* Game 5 in the middle was against Houston with just 2 shots and there was no clear way to assign it to the first half or second so I just excluded it.
So maybe Nick unlocked something a few games ago to get the club shooting more. Whatever, things are far from grim. This is not a bad spot to be considering.
At 15 points, 2023 ranks third among NYCFC seasons. Only 2017 and 2018 were better starts measured by points. The +1 Goal Differential is not so impressive.
Besides the tepid goal scoring, NYCFC concedes too many times on set pieces. We've all noticed. Opposing goals to date are broken down as just 3 from open play, 1 PK, 3 Corners, 2 Free Kicks. Last year it took until Game 28 to concede 5 goals on corners and free kicks. On the other hand, last year NYCFC conceded 6 goals from open play through nine games.
Wide range of possibilities depending on the final 25 games: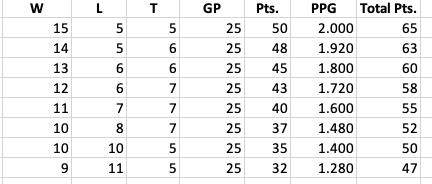 I'll try to do another roundup around game 17. In the meantime, chat amongst yourselves.